Customers experience mistakes are "THE MISTAKE" you must avoid. Because customers are the main focus point of many businesses and ensuring top notch customer experience is vital. It is vital in the sense of gaining a competitive advantage over rivals. Because we can see at this point of time customers hold the greatest power over businesses. Their word of mouth is essential for your brand's reputation in the long run.

And nowadays words of mouth can cause a wildfire through the social media platforms such as Facebook, Twitter, LinkedIn etc. You can not get away from the mistakes you have made with your customer. So, learn from your mistakes, take notes and understand what not to do.
1.  Not Training your employee
Your customer experience program should include proper training of your stuffs. It does not matter whether you have 5 customer service representatives or five thousands. You must train every stuff accordingly for the best customer experience.
You wouldn't want to leave the customer experience on automation. Because the real customer experience initiates with your stuffs. Proper training can create great customer experience and avoid unwanted mistakes.
These are the goals you can set:
Make sure everyone is on the same page,

Your stuffs are the best representatives of the business &

They understand the value of the customer experience.
2. Treating all customers same
Another big customer experience mistake you want to avoid is treating all your customers same. There is no one-fits-all solution. Instead introduce some level of personalization for your most loyal customers for boosting sales.
It is extremely important to add some level of personalization. Just follow these statistics here:
Businesses today are adopting new technologies to analyze customer behavior in order to anticipate more accurately. Achieving personalization to a level will entice your customers to become a loyal customer for indefinite period of time.
3. Not taking regular feedback
Good customer experience is directly related to constructive customer feedback. It is the best way to know what your customers wants and demands. Act accordingly and wa-lah! You have hit the customer experience gold mine!
Social media platforms are playing the most crucial role in accumulating customers' feedbacks. It has become the new medium of having relationship between customer and business.
Say for example, Twitter is one of the most powerful social media platforms. Your customers are sending individual messages by thousands and unfortunately 70% of them wind up being ignored by businesses.
So, pay attention to what your customers say about you through any platform, whether it is social media or review sites. Meet their demands and avoid customer experience mistakes.
4. Not having an omni channel strategy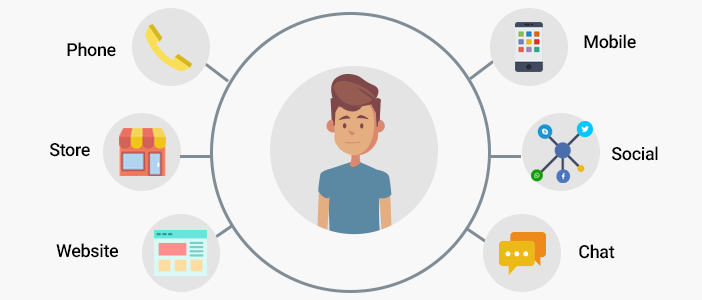 PwC reports have reported that 88% of customers research a product online before purchasing and 73% research online specifically when buying footwear, clothing, toys, and health and beauty products.
Another interesting stat is that 86% US consumers ideally shop across at least 2 channels. These channels could be – brick and mortar, website or mobile application. And sometimes they use all these channels to perform a single purchase.
Say for example, your customers are looking for a latest launched designer nike sneakers. They visit to your brick and mortar store. Even in the store one-third of your customers will check the prices online using their mobile devices.
So by now you know that not having an omni-channel strategy might hurt your business. To provide a smooth and consistent customer experience, your customer experience team should go omni-channel.
5. Not making it part of company culture
You can't expect to deliver amazing customer experiences if you can't promote it internally. Your organization must have a customer focused culture because it is directly related to customer loyalty and profit.
Many of the big brands like Amazon, Apple, Disney, Zappos, Southwest Airlines, Four Seasons have one thing in common and that is customer driven culture. They know how to delight their customers in their own unique way. You should be as well.
Read our latest blog on: How to Build a Customer Centric Culture in Your Company
6. Not relying on intelligence tools
If you have a live chat software integrated with your website – extend its features with the help of industry renowned intelligence tools. CRM (Customer Relationship Management) tools are intelligent enough to collect, organize and analyze customer information. And not proper utilization of these data is a big customer experience mistake.
According to a stat, 34% of companies have a CRM platform. What is the benefit of CRM? Some are given below:
Improves relationship with existing and prospective customers by analyzing their information,

Tracks individual customer's chat history, transaction history along with their current journey in the sales process,

Helps upselling and cross-selling &

Predicts customers' future needs through analytics.
7. Not using right communication
Your customer experience strategy will be successful if you can speak your customer's language. You can boast about you know your customers only when you know how they communicate.
During the communication were they serious or humorous, formal or casual, did they appreciated you or not – these are the questions you must answer to know their specific language.
For example, Mailchimp an email marketing company have taken time to think through customers every step of the journey. Just finished an email campaign, Mailchimp recognizes it as a job well done gives you a virtual high five and of course a "Hoozah!"
It is not all about your amazing products and all its glory you think of it. Sometimes it is about how your customers feel and react to it. Try to decode it, speak your customer's language and you will gain their trust, admiration and business.
8. Not providing real time support
Design your customer experience program in a way to be able to provide real time support. Real-time support means to deliver instantaneous communication with your customers.
Your business oftentimes suffer due to not having real-time support system during the customer's purchasing journey. Businesses must introduce real-time communication for a seamless user experience and improve customer support team's efficiency.
Here are the top 3 benefits of having real-time support:
Create a seamless, personalized customer or user experience,

Build relationships between your customers and business on trust

Improve response rate and minimize hold times.
Real-time support not only just improves on customer experience but also increases sales, website visitors and overall brand reputation. One best way to provide real-time support by integrating online communication software such as live chat.
9. Focusing too much on automation
Organizations should use the technology like Artificial Intelligence and Machine Learning more smartly. Chatbots and AI can add tremendous value in CX; but instead of replacing people business can use them to facilitate the human delivery of better customer experience.
Too much of anything is never going to be good and throwing a technology towards a problem is a big mistake. So, to avoid CX mistakes do not focus too much on automation.
10. Not showing empathy
And finally one of the common customer experience mistakes is not showing empathy. Your customers not only want to fix their problems but also they want you to listen. You have to feel their distress. You have to tailor interactions with your customers in way so that they think you understand them. Only then you can see your customers are keep coming back.
Apple is at the pinnacle of delivering the best customer experience. They have assigned Genius Bar employees across their retail locations. Their one of the tasks is to listen to their customers, analyze their body language and they are taught to use certain phrases accordingly. They treat each individuals differently and these allows the customer in thinking that Apple cares and they do
Final Thought
These are the type of mistakes you can avoid if you like to optimize your company performance. These mistakes can truly harm your business and ruin your brand reputation. So, keep working on providing the best customer experience or someone else will.