To improve the quality of your customer service, efficiency of your support team and overall customer experience, you need to understand how well the support team can perform under pressure.
You may have been using several support channels like phone, email and live chat solution together, but to provide the best customer service, you need to be efficient in customer support management. With live chat, one agent can handle multiple customers at a time, which is not possible by phone or email, but that does not mean for workforce optimization, you will assign each agent with too many chat requests to handle. Trust me, the result will be bad, as they will not be able to deliver their best.
Several live chat software enables you to set concurrent chat for each of your agents for maintaining the quality of customer support and REVE Chat is one of them. How does it work? Let's discuss.
How to set concurrent chat requests for your agents?
Login to your REVE Chat dashboard and go to 'Agent Management'. Next click on 'Create Agent'.
You will be redirected to a new page, where you need to fill up a form with the specific details of that agent whom you want to add. Here under 'Concurrent Chat', you can fix the maximum number of chats that the agent can do at a time. Finally, click on 'Submit' to save your changes.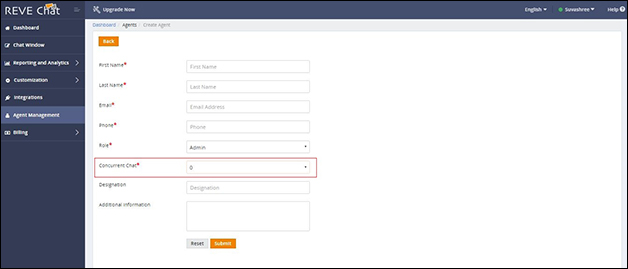 So, this way REVE Chat enables you to set the concurrent chats for each of your support team members to maintain your support service quality. In short, it's a great help in workforce optimization.
What will happen when agents reach their maximum chat limit?
Suppose all of your support agents are busy in assisting others and have reached their maximum chat limit, then the next website visitor seeking some sort of help will come in the queue and he/she will receive the same message with the respective queue number.
Meanwhile, as soon as one of your agents, finishes one chat session, he will get the new chat request from that visitor and they both can start the chat session. It helps in customer support management and delivering the best service to your customers.
REVE Chat offers a 14 days FREE TRIAL to try out all its advanced features. So SIGN UP today to get started.