Many businesses look for free software in order to curtail costs and lower the overall operational costs. While free software sounds good, they are hardly good solutions when you're focusing on efficiency. Further, the efficacy of the software is greatly reduced as many features are available to premium users only.
Free products sell fast and are highly coveted. This is why the popularity of free live chat support software has increased drastically. One explanation for this phenomena is the basic features which are provided for free. If and when the user needs advanced features, they can get the paid platform. But this shouldn't be a permanent solution for your business. 
The primary reason behind this is the fact that as your customers grow, you'll find it impossible to cope up with only the free trial of chat software. In the end, under the guise of lowering your costs, you'll only be providing unsatisfactory customer experience which would lead to the downfall of your business.
What are the key criteria to choose live chat for your business?
Understand your business needs
Finding the right live chat software actually depends on your business requirements. In order to find the best live software, you need to know how the software can meet the purpose of your business.
Sales

: Live chat software is imperative as it provides real-time sales assistance to your customers and visitors on your website for completing a transaction or filling up form.
Customer support:

Providing live chat support helps with faster resolution and less number of tickets, and explain the product features and functionality.
Key features to be considered while looking for the best live chat software for your business
Deliver omnichannel support:

Customers today, choose to contact via multiple channels. Interconnecting these touch points with the live chat software gives seamless customer experience.
Advances online conversations:

Messaging or live chat channels can be used to help your customers whenever they require support for online conversations and turn customers into loyal buyers.
Deliver real-time customer service:

Live chat software is an effective way to connect with your website customers in real-time.

Forrester report says

live chat is the fastest channel and more than 33% customers choose it over any other channel.
Complete customer engagement with visual engaging tools:

As per the latest customer experience trends, customers choose the website to connect with you. With the visual engagement tools, your agents can guide your visitors to know your product, services, price etc.
What kind of support and future enhancements you expect?
While purchasing any software, customer support is an important aspect of the buying criteria. Whether the product offers the service level agreement (SLA) that you need or do they also provide development and customization support need to be considered as many times free live chat tools do not have the bandwidth to deliver such demanding work.
Often development support is sought after by customers who customize their brand and it ongoing support for a long period. Customers also look for 24×7 customer support availability. For instant resolution of the product related errors/queries round the clock customer support is by every customer.
Negative effects of the free live chat tool
1. Free software affects your branding
People prefer to do business with the companies they believe in. Implementing the right software or services demonstrates the strong brand positioning of your business. It helps people feel more comfortable purchasing your products and services.
Branding is the fundamental building block of all businesses as it conveys your ideas to your customers. If your brand is strong it can impact more people and translate your efforts into success. The products and services that you adopt reflect on your business negatively or positively.
At times using free products affect your branding as branding promotes recognition. Your complete brand experience, starting from the visual elements such as chat widget on your website, tell your customers about the sort of company you are.
2. No way of live engagement with customers
Customers expectations have evolved how they communicate with businesses. The implementation of the visually engaging tools for real-time support is most sought after in the current time.
An excellent live chat software offers real-time engagement tools that escalate business growth and enhance customer experience. The powerful tools such as co-browsing, video chat, screen sharing, and live chat assist in complete seamless engagement between the agent and customer and derive customer satisfaction.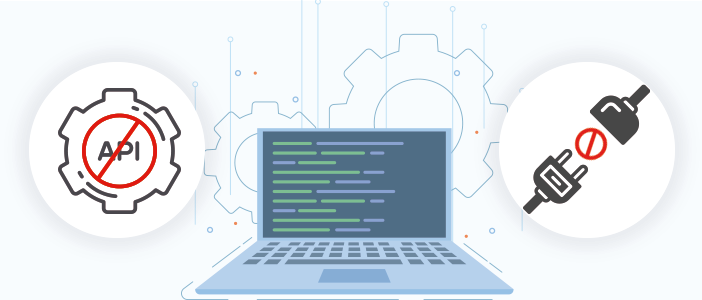 Co-browsing with video chat and live chat makes is the perfect combination to assist the customer in real-time situations. It helps in instant resolution of the error, develops trust in customers and reduces handling time.  A free software fails to deliver the experience of real-time engagement tools making it not a wise choice for your business.
3. No omnichannel support
Most of the business focus on omnichannel customer service by integrating different channels such as email, text, and instant messaging to provide a unified brand experience. The customers can switch among channels and experience the best quality service.
The companies that do not deliver omnichannel service are unable to –
manage all customer conversations under one platform for better conversations

serve customers on their preferred communication channel

reduce response time and g

ain individual customer insights
Many of the free tools offer live chat support only for the website and ignore the other channels like Facebook messenger, Telegram, Skype, and Viber.
4. Limited customer support
Customer support is an important buying criterion for every customer decision.
How many times you may not have bought a product due to poor customer service experience?
That shows it can either make or break the customer buying decision.
Formal customer support is not guaranteed by such software providers. Some might offer a short offer of support on the free version to the users. Further compelling them to upgrade to paid accounts for complete quality assistance.
Many live chat solutions are not backed by customer support. This means when you encounter any problem you cannot approach any support team for assistance. Lack of customer support to the users when they look for real-time support is one of the greatest downsides.
5. Sluggish User Interface
According to CCW Digital's Winter Executive Report, 33% of companies voted that enhancing the agent experience was a top priority for their business in the year 2018. Out of those companies, 42% reported that they expected to enhance the agent experience by making the systems easy to use.
Usually, the user interface (UI) of the free tools are not interactive. The developers who design this software do not invest much of their time in making the pleasing interface. Thus, increasing complexities in navigation for the customers.
The clunky UI slows down the conversations and response time, unable to provide instant support to the customers. This results in poor customer satisfaction and lowers the customer experience.
6. Limited real-time analytics
Real-time analytics is very important and it helps to get the picture of your business performance. Without the analytics, you do not know where your business stands in terms of growth and performance.
There are many chat software that does not provide real-time analytics for your business. They also lack other reporting capabilities such as visitor tracking, proactive chat capabilities, and omni channel support.
These reporting capabilities along with real-time analytics are highly essential for a company to face the competition and not practicing the same is a great competitive disadvantage.
7. Limited customization options
Are you are serious about your brand and want to match up to your expectations?
A commercial chat tool offers you a huge list of options to customize to match your expectations. The unlimited branding options provide to get exactly the same picture that you want to give to your customers.
But in a free solution, you get a few customization options such as color, theme etc. You may not get enough branding options that could match your brand as you want. Using the paid software offers advanced customization options that give their brand an exact face value you want.
8. Limited conversation history
Usually, free chat tools provide limited conversation history due to the storage and other business limitations. Hence, for business who use such tools, you may not get a historical understanding about your customers beyond a certain period like 14 or 30 days.
A commercial live chat solution provides longer and most of the times indefinite history for the conversation, which can help business to track and understand customer behavior across their whole journey. Hence agents can have better conversations and faster responses.
The commercial platforms offer different plans, subscriptions, features, and suites. People can choose the right one depending upon their business requirements. This is also one of the reasons why people opt for such platforms.
9. No integrations or Developer API 
Ever tried to export data from a live chat software to another platform? How often you do that manually?
Free chat solutions, in many cases, may not have the robust API or SDK which can be integrated across your other applications.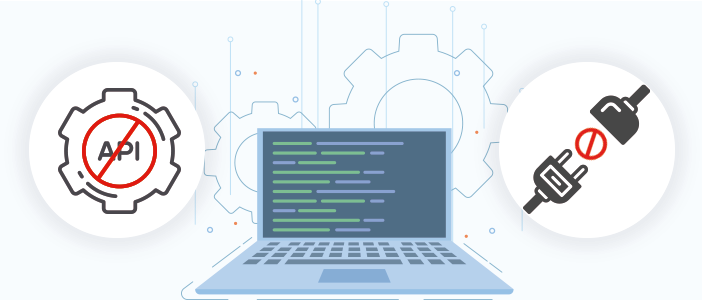 Hence, having a commercial live chat software that can easily integrate with the third-party tools or provide access to developer API helps to automate your administrative tasks and the customer data can be access across various business integrations such as CRM or marketing automation tools.
10. No new features release
The word 'free' is eye-catching in the business world. Businesses generally opt for free products in order to cut expenses. A free chat solution is generally prone to limited features. The developer does not invest in adding new features for the software enhancement. 
These tools restrict you to implement advanced features like co-browsing, video chat, screen share, advanced routing, department management etc are restricted in the free chat software that greatly impacts your business performance.  
You will be able to send messages to a limited number of contacts. It will allow one agent to be online at a time. Certainly, the business is affected negatively and shows how well the company can meet the needs of their customers.
11. Security of your data
Free chat tools, by nature, may not have serious considerations about the customer's data security and how they manage the conversations on the cloud. As a business, the privacy of your customer data is utmost importance for you and using free tools can cost more by compromising with the data.
Takeaways
As a business, your main goal is giving your customers utmost satisfaction with your products and services. While you plan to invest in the tools it should not be on the perspective of cost rather it should be customer-centric and meet customer objectives. It should provide complete satisfaction to the customers and enhance better customer experience.  
So instead of choosing a free chat software, think wisely and be open towards early investment in a quality live chat solution so that you can expedite the company's growth.