As technology improves, the manner in which companies interact with consumers changes in new and unexpected ways. Today, it is the case with companies there are several lines of communications that exist for customers based on what their need to contact the company is. It is important to note the channels described in this graphic are just some of the most common ways in which companies communicate with consumers.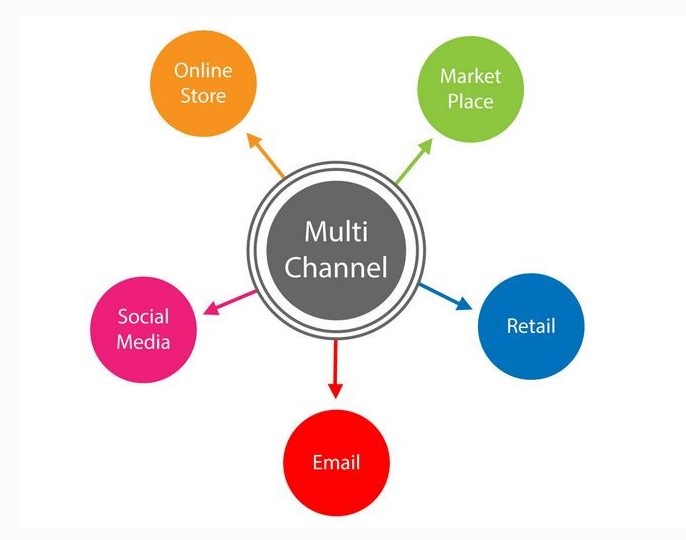 The aim of multi-channel customer service is to provide customers with options for how they would like to communicate with a brand if they have a query or a complaint to make.
It provide a seamless experience to the customer.
It gives customers options they can choose from based on their preferred channel.
The ideal multi-channel customer service operation would have a 'single customer view': the ability to track customers and their communications and purchase behaviour across channels.
Multi-Channel vs. Omni-Channel Support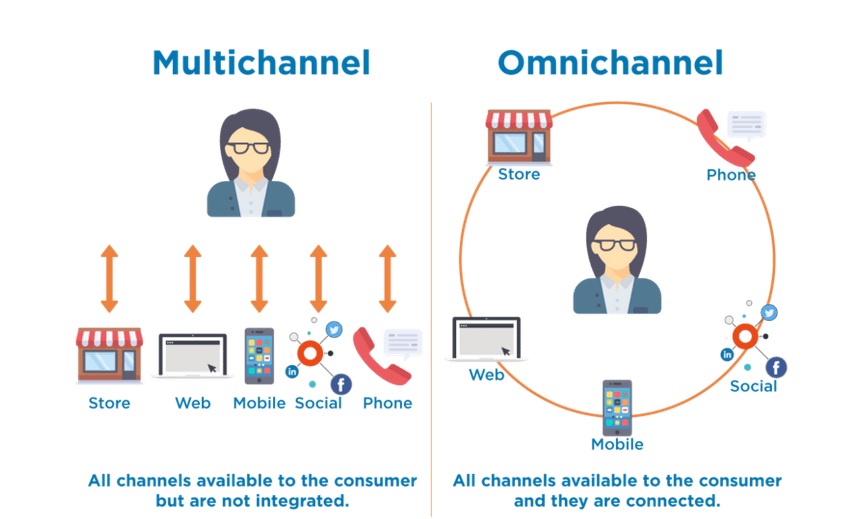 Multi-channel marketing refers to the ability to interact with potential customers on various platforms. A channel might be a print ad, a retail location, a website, a promotional event, a product's package, or word-of-mouth.
Omni-channel refers to the multi-channel sales approach that provides the customer with an integrated shopping experience. The customer can be shopping online from a desktop or mobile device, via phone, or in a brick-and-mortar store, and the experience will be seamless.
Challenges Faced By Business
Difficult to understand customer behaviour – In order to influence the consumer journey across the channels retailers need, first and foremost, to be able to understand how a customer behaves across all journeys, in a single place ideally. (Yes, 'single view of the customer' is back on the agenda). Once you have gained an understanding, the next step will be to use this understanding efficiently and start optimizing conversion across multiple channels within a single purchase journey.
Lack of insight across channels – One of the biggest challenge faced by business when they incorporate multiple channels and then they face problems in merging and standardising customer data. Providing consistent service is critical to the overall customer experience. But often, agents do not have insight into interactions that occur in other channels. As new channels are incorporated into the business, agents must have visibility into customer interactions across all channels to ensure customers are receiving consistent, seamless service and that your brand is being well represented.
Understand dos and don'ts for each channel – Each channel serves as a conduit between the customer and the business. Despite the differences in the interaction, all channels share a common goal – "timely and complete responses". Channel agents need to understand the customer's mind set in using a particular channel whether they are serving through live chat, email, social media etc. What is important to not be the dos and don'ts for each channel? It is important to identify the specifics for an ideal customer experience and tailor the tactics accordingly.
Benefits of Multi-Channel Support
Customer Benefits
Enhanced flexibility: Customers will be able to interact with the business using a medium of their preference.
Instant responses: Through a responsive multi-channel contact centre, customers will be able to have their queries resolved in a timely manner.
Seamless support: A multi-channel contact centre gives customers the freedom to easily navigate between mediums as per their convenience. The history of their interaction is available across touch points, which streamlines their experience.
Organisational Benefits
Actionable insights: By employing a multi-channel approach, companies can garner immense information about customer behaviour and preferences and can serve them better.
Enhanced customer interactions: With multi-channel customer support, companies can enable a touch point at each level of the customer's purchase journey and address critical service issues.
Improved ROI: Through multi-channel contact centres, marketing campaigns can have a greater reach and impact, which will result in a high Return on Investment (ROI). Enhanced customer satisfaction, loyalty and advocacy will also have a positive impact on ROI.
Boost in business efficiency: Multi-channel customer care allows flexibility to the business and also helps in CRM integration. This enables companies to optimize their operational efficiency and get a competitive edge.
What to Do Next
The customer experience is happening more and more on multiple channels and the savvy businesses are opening up on those channels themselves.  While this can seem like one more challenge to your team, adopting a multi-channel approach to support as well as making it possible for your support team to work on mobile platforms will make your support organization more effective and better able to turn support interactions into sales opportunities. The most important thing to remember when supporting multiple channels is that you need a unified tool to do it. So, are you ready to start reaping the benefits and tackling the challenges of multi-channel customer support?