Building strong relationships and connecting with customers encourages faster growth for every business. This is something everyone knows, right? Then, why it is so that many businesses focus on customer acquisition and neglect to keep existing customers happy?
A marketing survey by Belly says only 28% of businesses plan on allocating budget to customer retention this year.
The argument for focusing on your customer service marketing strategy is clear. Then comes the question, how do you do it in a scalable and affordable way while keeping your eye on the customer acquisition ball?
What is customer service marketing strategy?
The customer lifecycle is summarized the different stages followed by the customer as they advance through the marketing and sales channels.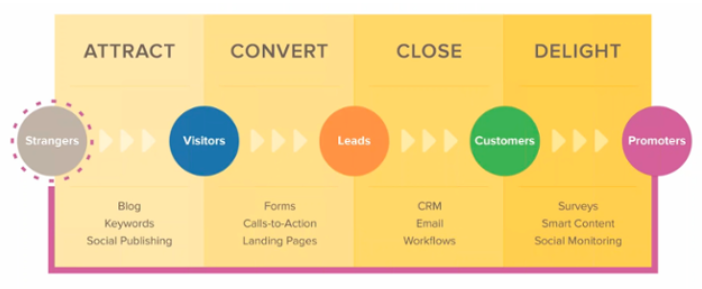 The customer usually follows through five major channels mentioned below:
Discovery

– In this stage customers start looking for the product by comparing with the competitor brands.

Education

– Here customers questions are responded by the brands also try to learn more about their expectations and requirements.

Purchase

– Customers makes a final purchasing decision based on all the collected information from different businesses.

Post-purchase engagement

– Brand follows up with the customer after purchase, asking about their experience with their product or service.

Advocacy

– Customers influence others by advocating about their brand experiences in the form of social media posts or product review.
10 reasons why customer service is the new marketing
As you are aware of the buyer's journey and how to tailor your marketing to reach those customers whenever they show the intent for purchase or have some product query.
If you want to make those customers return again, recommend your brand, and become your brand evangelists to spread their experience by word-of-mouth – how can this happen? By making excellent customer service a part of your marketing strategy.
The pairing of customer service and marketing objectives can help to accelerate business growth and achieve the goals faster. Let's discuss why customer service and marketing go hand in hand.
1. Customer service pays for itself
Good customer service is rated as the most important factor by the customers when deciding to do business with an organization. It indicates that conventional competitive advantages such as price, location, and product are rapidly declining as the reasons why consumers choose your brand over others.
In today's time, almost every customer is connected via social media, one bad experience with a product reaches more than five times as many ears as good experiences. With one bad rating, your brand's identity can be substantially tarnished.
With good customer driven marketing strategy, you not only gain new customers but also adds greater lifetime value that retains customers with your brand. With loyal customers, your business has a 60% to 70% chance of selling to an existing customer as opposed to 5% to 20% to a new consumer.
Example of customer service marketing strategy
The Ritz-Carlton Hotel Company are such committed to customer service that each of their employees is authorized to spend $2,000 per day to improve their customer experience.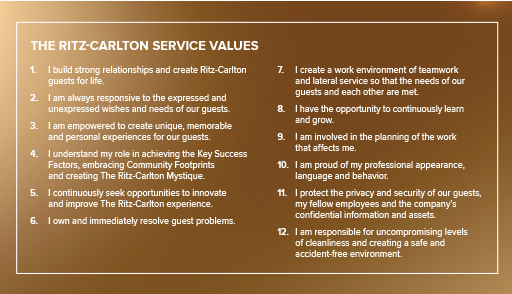 When a company invests in customer service it wins news customers matching it to the marketing strategies. With positive word of mouth, retain with your brand and become your brand advocates by sharing positive experiences and stories.
2. Social media customer service as a form of marketing
More than just responding, why not consider developing a strategy to have meaningful conversations? The traditional customer service methods were designed to resolve the problem and over. Social media customer service marketing strategy is learning how to extend the conversation.
Social media customer service focus on prompt customer support across all social media channels such as Facebook Messenger, Twitter, Instagram to quickly answer questions. Sprout Social Index says 90% of surveyed consumers have used social media in some way to communicate with a brand.
Like marketing, social media helps to increase your brand engagement and gain new customers. It helps you to know more about your target audience and accordingly position your product/service as the best option for them.
Here is how social media customer support helps in accelerating business growth.
Social listening for engaging customers

– Social listening helps your brand to monitor, respond, and engage your customers across social channels to improve customer service marketing strategy.

Shaping your brand reputation –

Social media is an important source by which customers encounter brands and can reshape your brand rapport.

Word of mouth

– When the customer is satisfied with the customer service they turn out to be your brand advocates recommending your brands over different social media channels.
Social media customer service example:
JetBlue Airways
Many customers take to Twitter and Facebook to voice their complaints on social media publicly.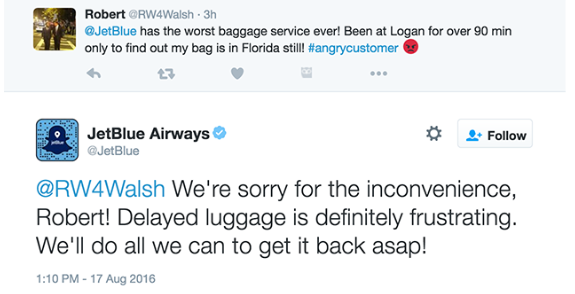 Source: JetBlue Airways
The above scenario shows the frustration of an angry flyer and how a JetBlue customer service agent cools him down. Using mirroring words to handle such situations makes the customers feel heard.
You may also like to read – strategies of social media customer service.
3. Customer service accelerates business growth
The customer acquisition strategy is an essential component for any business. One of the most difficult parts of scaling any business is actually figuring out, which channel is the most sustainable for bringing through new customers.
NewVoiceMedia says an estimated $41B is lost by US companies alone each year due to poor customer service.
It is a golden rule to be followed by every business. When you deliver superior customer service, you are able to retain your existing customers and spread positive experience to the prospects about your brand.
How company growth is accelerated?
Acquire customers

– Providing good customer service leads to good customer experience. When potential consumers are satisfied with your products and services, it leads to word-of-mouth recommendations. As a result, there is more profit and save money on both advertising and marketing.
Increasing your average order size of the customers

– When the average order size of the customer increases, your business earns more profit. Average order value is the average amount a customer spends when placing an order on your business.
4. Customer service empowers your team
Empowering customer support team means to give them the freedom to access technology and other ways to deliver excellent customer service to make customers happy. Empowering teams require employees to be well trained to figure out and act on opportunities to improve customer service.
Benefits of empowering employees are as follows:
The employees have complete freedom and knowledge to handle customer's queries independently. They have ownership to make customers happy.

As a team, they can perform together. Thus, delivering superior customer service and business success.

Employees feedback is directly aligned with the company objective. The company's mission and employee's opinion are linked that makes employees valued.
When you give ownership to the team for their own work it boosts employee motivation and morale. It also improves quality service, team productivity, and quick decision-making.
You may like to read – How to empower your team to deliver great customer service
5. Use live engagement tools for better customer service
Wow, your customers by using live engagement tools deliver an interactive customer service experience. Live engagement tools answer customers' immediate need for quick resolutions to issues. It is an effective tool for improving customer experience (CX). This live customer engagement offers functionality beyond simple communication.
For example, co-browsing, which allows agents to take temporary control over the customer's browser and lead them to different products and pages on the website, helping customers find answers more quickly.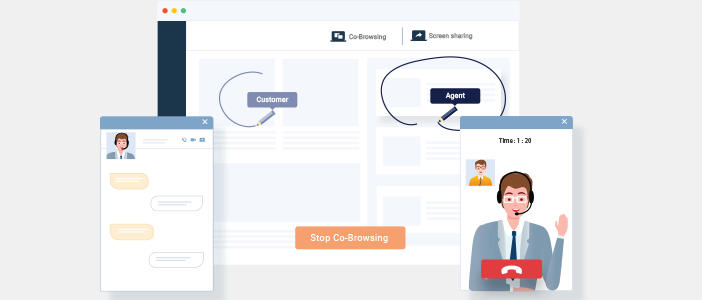 Video chat functions help the business more directly. Face to face interaction helps to acquire information about the customer issue and provide faster solutions. Using live engagement tools fuels advanced customer service to customers and improve customer experience.
Live customer engagement benefits the customers in the following ways:
Better customer experience

– Communicating with customers in an interactive manner boosts customer satisfaction and experience.

Faster resolution

– Live engagement tools reduce the total number of touchpoints and deliver the right solution in minimum wait time.

Instant conversion –

Live tools helps customers for quick decision making by assisting them to offer quick solutions.
You may also like to read – how to best co-browsing software for superior customer service
6. Scale your engagement with chatbots
With Artificial Intelligence (AI), chatbots have evolved significantly that can help you to automate various business processes.
Apart from helping with customer queries, AI-powered chatbots can be used for customer engagement, a part of the marketing campaign and help nudge your customers seamlessly through your sales funnel.
Facebook chatbots show the importance of customer service in marketing
Facebook chatbots have changed the way of interaction between the customers and the brands. More than 100,000 bots are being used on Facebook messenger to collect information, make product recommendations, take orders and even for social good.
How chatbots can fit into your customer service marketing strategy?
Deliver personalized experience

– Chatbots integrates with social media channels and gather all data. When an inquiry is made by the customer, the chatbot can answer it accurately by personalized messages based on the customer's history and preference.
Collect and analyze customer feedback

– Chatbot offers the perfect opportunity for you to gather feedback from your customers. With the right machine learning tools, a chatbot can analyze the gathered feedback, giving you more insight into what your customers are looking for.
Send notifications

– Chatbots are capable of capturing and analyzing data, they can send personalized notifications through social media that are relevant.
7. Customer service impacts your brand experience
The companies that prioritize the experience customers have with their brand, everyone benefits in the long run. Every company should be hyper-focused on delivering a great customer experience to its customers.
From the moment customers make their first touch point by asking a query or showing the intent of purchase, you must promptly assist and guide them towards the right direction giving them a unique brand experience.
Customers usually want to deal with an expert agent so that they get their problem resolved in the first touch point. Empowering your employees to deliver the best service to the customers that will avoid negative experiences.
Good customer service goes a long way by following ways:
Brand awareness

– Happy customers further recommend your brand to others, share the positive experience over social media, write product reviews and help your business broaden its horizons.
Real time engagement

– When you engage with your customers in real time and deliver the right solutions, it reduces the response time and improves customer experience.
Retain and make repeat customers

– The customers who are satisfied with your service will be associated with your brand. Make sure you deliver consistent service to keep these customers coming back to you again and again.
8. Good Customer service improves your retention rate
"Well done is better than well said."
Your customers respond better to what you do for them rather than what you say you're going to do, and this is exactly why outstanding customer service needs to be part of your marketing strategy.
The majority of our customer reviews are based on how our customers are treated by our customer service team and we pay close attention to what people say. Good reviews help us establish trust and confidence with our customers.
Aspect Consumer Experience Survey found out that 76% of consumers say they view customer service as the true test of how much a company values them.
A positive experience with customer service creates loyal, happy customers that spread the word about your service, driving referrals. On the other hand, bad reviews can severely hinder sales and ultimately damage the brand.
How good customer service improves customer retention?
Prompt response

– When customers reach out to you with their problems and you address them promptly with effective resolution and personalized conversation they are satisfied and retain with your brand.

Continuous engagement

– Delivering real time support to customers without making them wait longer wins the customers for your company for a lifetime.
9. Great customer support = higher NPS
If business is a machine, customer service is a vital cog. But how much vital actually?
In the incredibly customer-driven market, it is not only product and price that companies must compete on, but customer service as well.
Great customer support can be achieved by providing a prompt response to customers in real time. With live chat software, you can deliver better customer service and ask customer feedback through ratings and surveys.
According to CT,  satisfaction ratings for live chat are often higher than all other support channels, likely because of the speed and conversational nature, with chat being the preferred support channel by millennials.
R&G Technologies shows the 
importance of customer service marketing strategy
R&G Technologies, an Australian IT support firm that has developed strong, long-term relationships with their clients.
What did they do?
The company solidified relationships with:
Rapid response times – They get back to their clients quickly

Strict service-level agreements (SLAs) – Heir employees have been bought in on this by tying these KPIs to how much they earn.
Most importantly their customer satisfaction surveys. They give their customers an opportunity to express what they doing are right and where they are getting wrong. With these surveys, they identified their brand promoters and detractors.
Source – R & G technologies
The company focuses on asking the right feedback questions in order to gain insights they can execute on. They use the collected information to make better business decisions and retain customers.
Such practice helps to identify what customers are looking for in your product and services. Furthermore, this also helps to inform both your overall marketing as well as your retention strategy.
Note – Never underestimate the power of one-to-one conversations with your customers.
10. Good customer service creates strong communities
Many customers switch companies after a bad service experience or a complex buying process. Not one single brand can afford to lose customers and sales. You can build strong brand affinity and have strong communities with good customer service.
Marketinginsidergroup says, 67% of businesses use their communities for insights on new products or services and features.
With interactive communities, brands have the opportunity to listen to their customers. They can use what they learn to help develop the next focused marketing strategy or even the next product.
Having a good customer service marketing strategy helps in developing communities in the following ways:
Customers feel part of the brand

– When you give priority to customers and offer them a service they are looking for, they are satisfied and return back to your brand again. They feel valued and part of your company.
Build customer loyalty

– Good customer service helps you to gain more loyal customers who stay associated with your company for a long time.
Getting new product ideas –

When customers are strongly associated with your company they come up with new product ideas that profit your business.
Early adopters – L

oyal customers are the early adopters of your brand. They are the first one who goes with your new products or services.
IKEA for example – Forbes ranks IKEA's brand as the 46th most valuable in the world. This company values the customers-first purpose and a customer-first business plan.
The IKEA U.S. 5,000 Dreams campaign is working in partnership with three refugee organizations. It has supported its local communities by donating 5,000 beds and bedding to refugee families who are starting new lives in America.
Final thoughts on why customer service as new marketing is the winning mantra
Take your marketing strategy up a notch. Be the best in your industry by making customer service part of your marketing strategy. Hopefully, the above-listed points convince you to learn why is customer service an extension of marketing.