With each and every Christmas that passes by, online businesses analyze the overall sales results and every year the total number of online shoppers is always on the rise. Why not? Without going out of their comfort zone, people can easily shop from the online stores, enjoy great deals and get things delivered at their preferred locations.
So, as an online store owner, make sure during this period you are not left behind. Advanced planning and creating some good holiday marketing strategies are very important because the competition in the eCommerce business is really high. The National Retail Federation is predicting a 3.6% increase in sales for 2016. To grab the most of it, just have a look at your to do list twice. Let's discuss some of the coolest Christmas marketing ideas for this season!
[Tweet "November-December drive 30% more e-Commerce revenue than non-holiday months"]
1. Make sure you have the latest collection of the most popular products
People love to gift the best and latest things to their loved ones. So make sure you display the latest collection and best designs on your 'Home' page. When you gift something great for your loved one and she says "Wow! This is exactly what I wanted", the feeling is priceless. Your customers also want to get the same reaction. So, update your stock with the latest products.
Make sure to display all your Christmas deals and offers on the 'Home' page itself. Apart from that, you can display other gift ideas on the same webpage, for example, some of the best selling items, seasonal products etc. You can name this collection as 'Special Christmas Gift Ideas', Your Christmas Gift Guide' etc.
Let's have a look at the Marks & Spencer's website. For this Christmas season, they have come up with their latest collection.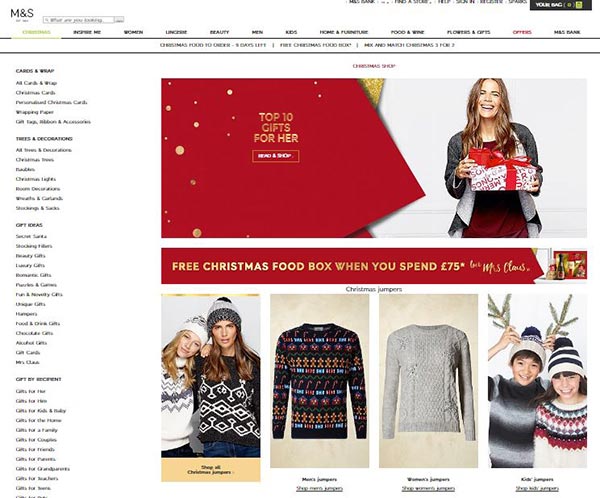 2. Your website design should have the Christmas flavor
Whenever a visitor comes to your website he must notice the essence of joy and festivity. So, update your website design accordingly, it should not look dull and boring.
Just think of those brick and mortar stores during the Christmas season, they are so well decorated with Santa, Christmas trees, colorful ball and bells etc. So, you also need to spend some of your marketing budget on giving your website a new festive makeover.
Here is an example from Hayneedle.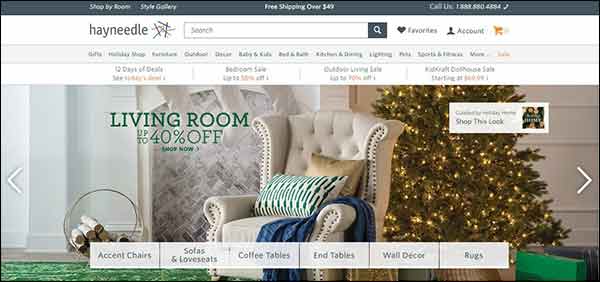 3. Add live chat to your website for providing instant assistance
With more and more website traffic and increased sales, customer queries will also increase. So, providing excellent customer support should be a part of your holiday marketing strategies. Customers always have very high expectation from customer support, so make sure you provide your best. Apart from other traditional support tools like phone and email, add live chat to your website and proactively engage with the visitors for offering instant assistance. Even by engaging with them at the right time you can influence their purchase decisions.
Remember, you have huge competition and customers have lots of choices apart from you. So provide excellent service during these days and don't let customers leave you being unattended.
4. Start working on your Christmas marketing campaigns much earlier
Start working on your Christmas marketing ideas in advance because you need to run the promotion much before the big shopping festival actually arrives. Special deals/offers, email campaigns, Facebook ad campaigns are couple of the examples that you need to work on. Early planning is a must for proper execution at the right time. If you are using some new tools which you never used before make sure to spend some time in test runs.
Here's a great example from Bath & Body Works.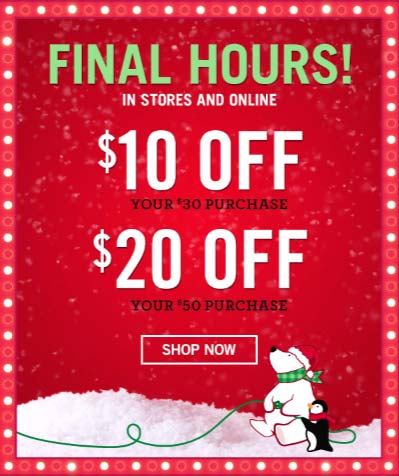 5. Work on Pay Per Click (PPC) campaigns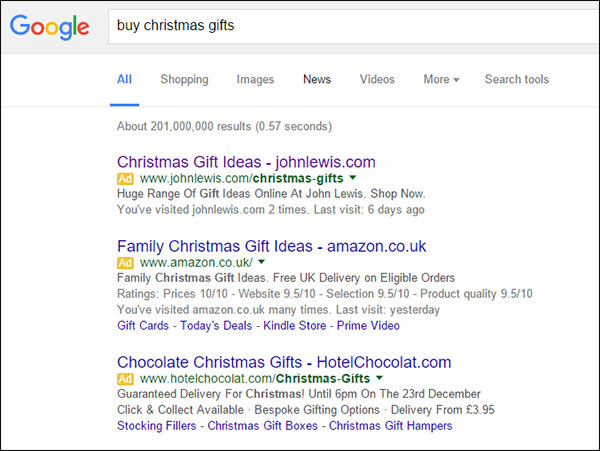 Don't forget to run PPC ad campaigns during this season. Many people will search by Christmas related keywords in Google and let them see your ad. You never know they may click on it, come to your specific landing page and buy something from there. So make sure to use keywords related to Christmas in your PPC ad campaigns.
Make it a point to create a separate landing page for the PPC ad campaign and that also should be designed keeping the Christmas theme in mind.
Also use the Remarketing techniques. It allows to show your ads to the people who visited your website or used your mobile app earlier.  This is a great way to attract old customers.  
6. Advertise yourself on social media
Here's one Instagram pic from Starbucks.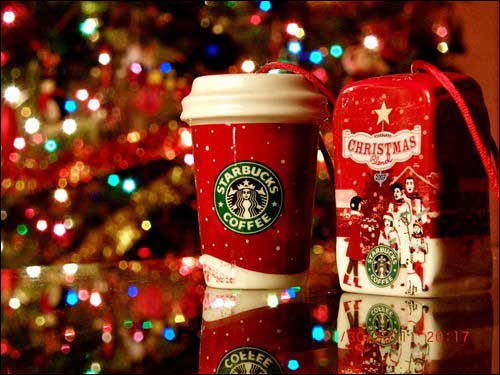 It's a great idea to communication with the customers through social media during the shopping season.
Being a great low cost marketing tool, it always helps to spread the right message to the right people within a very short time span. On your company's social media channels you can frequently post useful information like unique gift ideas, upcoming deals and offers, seasonal quotes, style tips for the festive season, Christmas related tips etc. You can also work on Instagram images, run contests and polls, open up interesting discussions to engage with the target audience in a better way.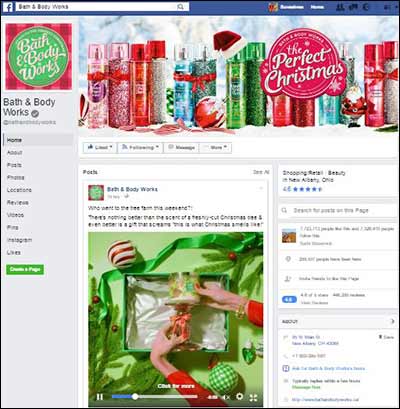 7. Send push notifications from your shopping app
As an online shop owner, the greatest possibility is you have your own shopping app. If not, create one, it will be very useful for your customers.
Research shows that 62% of smartphone users have made a purchase online using their mobile device in the last 6 months and the number will only grow. During Christmas time, send frequent push notifications from your app regarding all your deals, offers and promotions. This will keep reminding customers about your products and offerings.
Some more tips:
Arrange proper training sessions for your support team

Offer FREE SHIPPING

Make sure all the web pages load properly

Offer gift wrapping services

You can launch special Christmas gift vouchers

Make sure to add Christmas related keywords in Meta descriptions, page titles and overall website content for better SEO