You can not ignore the fact that website live chat is getting huge as time progresses. More and more businesses all over the web are adding a little live chat widget in the corner of their screens.
We are living in a digital landscape where people prefer messages rather than phone calls. According to a report 42% customers expect live chat support from the website they are visiting and 73% of customers are satisfied after using live chat.
The below image is from a Forrester Survey where you can see in 2009 there were almost 38% users who have used live chat. But in 2014 the number has grown to 58%. Live chat is the top communication channel and growing more than any other channel.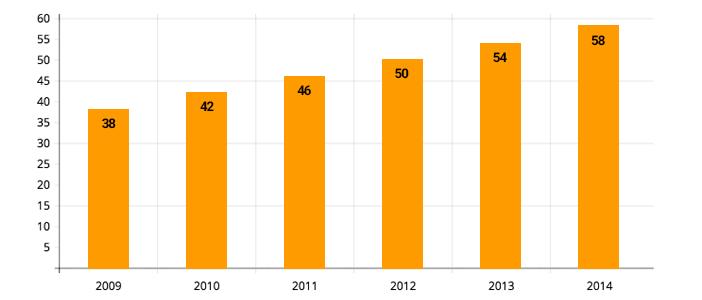 By now you know how much your customer loves live chat support. And customers are at the center of every business. We will today share the top live chat customer service tips for your business:
1. Customize or brand your live chat to match your website
Cindy Ann Peterson, an independent fashion and design consultant says,"Your image is your brand and you have only one opportunity to make that first impression. Choose to make a positive first impression."
Your customer loves you because of who you are. Do not try to give them a different taste with live chat. Customize the chat window according to your brand.
Utilize the chat window customization feature and use your business logo, chat agent's face. It will create an impactful impression in your customers mind.
2. Set targeted messages based on visitor behavior
Another live chat tip is setting targeted messages based on visitor behavior analysis. It is important in setting targeted messages. Some of your visitors may go all the way and buy from your website without needing any help or asking anything. Some visitors like to ask questions. And some want to purchase but for some reason they move away. As a business you have to find out your visitors behavior, set specific targeted messages to help them out. Targeted messages can:
Reduce bounce rate

Increase chat engagement

Answer common questions regarding specific products

Boost sales
Start small, set some specific targeted messages analyzing your visitor behavior. In time you will get enough information and automate the live chat software for your ease.
3. Make use of web engagement tools like video chat
Live chat is an excellent channel for providing your customer with rich experience. One of the best experience you can give to your customer from your support team by enabling video chat. This feature allows visitors to communicate with the customer support agent in real-time. Video chat is really helpful in building trust in your visitors for your business.
4. Make lead generation seamless with CRM integrations
You want to have your CRM software integrated with the live chat solution. Daily your chat agents may chat with thousands of visitors and have access to their sales record. CRM integration with live chat allows your agent to update these customers sales records. It makes your lead generation tasks easier.
Benefits of live chat integration with CRM
CRM live chat integration allows you to identify your customer needs,

Resolve their issues and closes deal faster

Collection of real-time data for sales and revenue reports.
5. Save your agent's time or respond faster with canned replies
One of the best live chat tips we are sharing here is canned replies. It saves a lot of your agent's time and decreases any typo error. Most of the modern live chat solutions today provide canned replies. You type reply once, save it and then reuse it during live chat sessions with a few keystrokes.
Use canned responses smartly and wisely. Avoid too many canned replies during a live chat because your customers may think they are talking to a machine rather than a real person.
6. Unify your chat support across social media
Social media presence is as important as having a website nowadays. Many of your customers hang around in social platforms like Facebook, Viber, Telegram or may be they use skype. You should connect these messaging app with your live chat software to make your life easier. Best live chat tips ever right!
Omni channel support gives a better customer experience. As your visitor can connect to you from any social platforms they are visiting, instead of traditional channels.
Additionally integrating social media for live chat increases the chance of customer engagement. Your customer can easily communicate with you from their favourite channels. Hence it helps you in getting more leads.
7. Help your customers in real time with co-browsing
Co-browsing lets your visitor and chat agents share a browser window and see the same things at the same time. The combination of live chat with co-browsing is a winning combination. It gives you the best result as you and your customer is on the same page.
Co-browsing gives your visitor a proper navigation through the specific pages of products. At the same time live chat helps him get the knowledgeable information regarding specific product. Both the functions happen in real-time which is satisfactory for your customers.
8. Be available 24×7 with mobile apps
When you are providing live chat solution it means you are giving a commitment. A commitment to your users of anytime communication. This is our 8th live chat tips.
Unless you are mentioning your working hours you must be available 24×7. Leverage the freedom to work from anywhere anytime with mobile live chat application.
Recommended for you:  Top 15 Live Chat Best Practices for Customer Support that Work
 9. Collect real time feedback with post chat surveys
Do not forget to design a post-chat survey in a way to collect real time feedback from your customers. You can assess customer satisfaction and continuously improve.
10. Assign chats to right team with tags
Tags let you categorize and organize live chat content. You must use tags to identify the topic of the chat and assign to the rightful agent. This will not only makes the chat session smoother but also increase your chance of selling. As your customers get to know the information from the right people.
11. Distribute your chat loads across your team members
Your visitor might want to communicate with the billing team. For that, you should categorize specific departments such as billing, sales, customer support etc. Whenever a chat request comes you can route them to the specific department for efficient response.
Handling chat loads by distributing them to different departments will resolve your customers issues much faster. It will also eliminates the extra chat transfer.
12. Provide proper training for Customer Support Team
Training is necessary for your customer support team to be knowledgeable about the products you have. The more knowledgeable your team is the more efficient they are. Hence you can generate more sales through live chat.
13. Don't go for cheap or free alternatives to save cost
As a small business, you have to compete with bigger brands. Using right live chat software can help to provide better online sales and support with right features.
14. Use positive tone
It is not always what you say but how you say it – which is important. So one of our live chat tips here is use positive tone.
To handle a difficult situation use of positive language is something that can help you. Say for example you have one of your items stock out. Now you can answer your customers by following 2 ways. You decide afterwards which is the positive language between two.
"I'm afraid we no longer have the product."

"We no longer have the product, but I would be happy to introduce you to a similar new product that might satisfy your needs."
Get it.
15. Take a consistent approach
Your business must show professionalism on every aspect during live chat. By saying that we meant, all of your departments must make constant communication to be in sync. By keeping consistency across the department your team can provide the best customer live chat experience.
16. Follow-up with your customers
Following up with your customers is another top live chat tips for your business. Do not make promises to your customers you can not keep. If you have mentioned you will send them an email, or you will let them know regarding a specific product's availability, do it.
Your live chat is representing your business and if you can follow through 100% of the time, your customer will take you more seriously.
Now that we have given you the most important tips regarding live chat, we are also sharing some good examples here.
Customer service chat examples
Use this to greet your customers – "Hey, Ryan! Thanks for contacting REVE Chat. I'm David. How can I help you?"
Use this to let your customers know you need some time – "I apologize, but I need a few moments to solve the matter. Do you mind holding on for a few minutes while I look up the solution?"
Use this if you are transferring the customer to a different chat – "Ryan, I'm going to connect you with the billing department. Katherine can help you with this, she's awesome! I've also gone ahead and briefed them about your situation, so you won't have to re-explain anything. Have a nice day!"
Use it when you are at fault – "I'm really sorry, Ryan. We made a mistake by providing you a wrong product availability date. We will fix it immediately, and it may take up to 3 days to fully resolve.  We'll keep you posted & ensuring you this won't happen again."
Use it when you can not help a customer with his/her query – "Well, Ryan, we really appreciate you telling us about the issue regarding RTX 2080 ti availability. Unfortunately, I communicated with the inventory team, however, there's nothing we can do to tell you an exact date of stock. To make it up to you, here's a coupon for 10% off your next order!"
Final Thoughts
These are some of the scenarios we have covered here. But there are hundreds more. All those scenarios need to be treated delicately and with a strategy.
We hope you know the top live chat tips for effective customer service. Execute these best practices wisely and smartly to give the best customer experience.